AUStralia abstracted
Sometimes, over the years, you find yourself disconnected, or lost, from who you are, who you want to be, and who you've always been. Many of us are disconnected almost entirely, because we are so connected. We are connected in a constant flow of communication and stimulation, with our phones and the internet. Because of this we are almost never alone, except for when we sleep.

When I relocated from San Francisco to Australia, after an inspirational trip to the South Coast of New South Wales, I felt what it was like to be alone for the first time in many years. In this state of loneliness, I discovered how powerful paint was in my personal process of healing, understanding, and expressing my subconscious.
Connection, to the earth and to yourself. This is my work.
how I work
I work with organic movements as I paint, channeling a dancer as I move across the canvas, scraping, pushing, pulling, pouring. Then controlling the chaos as the paint flows across the canvas, "quick run over there with a towel before that paint gets in the wrong place!" But the beauty of the process is letting go when I cannot control what the paint wishes to do. You must pivot, change, create and simply be the medium that works through what the canvas (and your subconscious) wants to say. Much like mother nature wreaking havoc with a storm, what is meant to be will be.
In Bondi Beach
Acrylic on canvas
30" x 30"
76 x 76CM
Sea Spray At Golden Hour – This piece is influenced by the reflection of the sun as it approaches golden hour in the late summer afternoons in Sydney, Australia. These moments are impossible to depict clearly, because they are quite emotional if you can clear your mind and focus on the beauty of a wave crashing and the white water catching the light against the blue hues on the mighty ocean. Golden hour is arguably the most beautiful moment of the day, if you have the chance to catch it.
Acrylic on canvas
36" x 36"
91 x 91CM
From The Sky – Allow yourself to get lost and let your eyes find what they may, like looking into the clouds on a sunny day. These pieces are never mean to be prescriptive, the beauty of Bryn's art is embracing the feeling of letting go of control, allowing the viewer to define what the piece means in their own terms.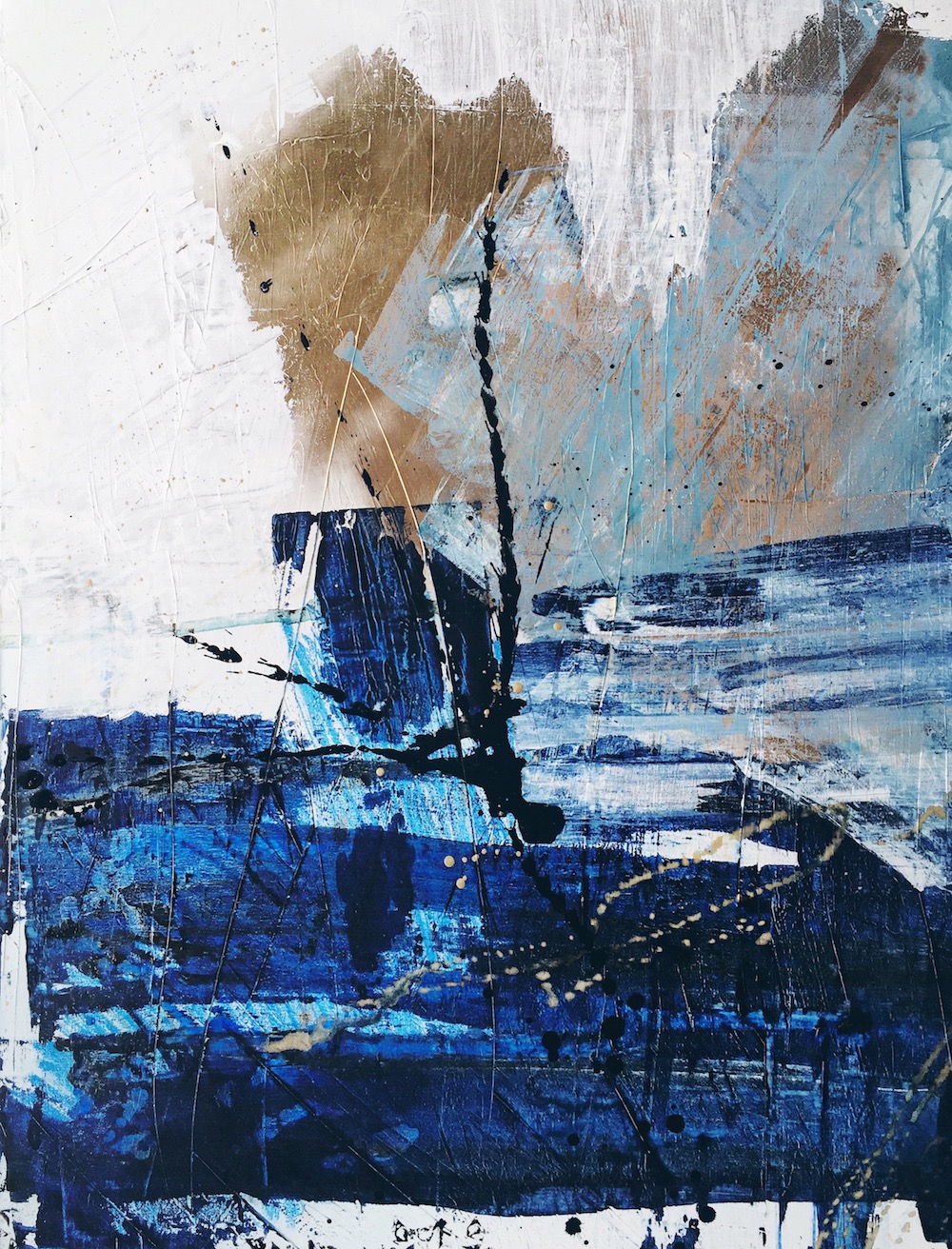 Acrylic on canvas
36" x 48"
Seeking sunrises during storms
Bondi Icebergs during a stormy night
Acrylic on canvas
30" X 40"
76CM X 101CM
Seeking Sunrises During Storms – This piece draws on a stormy night in the centre and the Bondi Icebergs in the bottom right, enduring the crashing waves as the storm calms for the morning's sunrise. Symbolising that the most chaotic of storms can bring the most peaceful moments. Much like Taoism beliefs of order and chaos, they both exist within the other. You must be prepared to endure the storm & the dark depths to see the golden sunrise.
This story reflects on the night I moved to Sydney in 2016, during one of the largest storms Australia has seen. It tore down the Bondi to Bronte Coastal walk and my journey living here has been a chaotic yet beautiful storm ever since.
Orbit – Sometimes life brings you to a place where find yourself lost, completely and inexplicably. Intoxicated from being so drawn to something, but it leaves you, and you can't explain why.

There is a darkness that can come with that sort of loss...the emptiness that you cannot seem to explain. But some things are always in your orbit. And these things might leave you for a time, but they always come back. Because you have an energy, a beautiful and strong gravitational pull. You both have a need to coexist, you need each other for your planets to flourish. Simply put, this piece is about the beauty when love come back into your orbit after being lost for a period of time.